Diabetes Shoes
Professional Pharmacy is pleased to have partnered with Dr. Comfort to provide you with shoes made from the finest quality materials. These shoes are especially beneficial for those patients with diabetes, as they can help to reduce diabetes induced complications, while also helping you to remain active in your everyday lifestyle.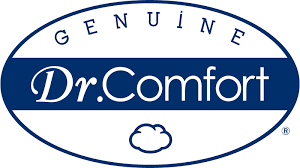 What Makes Diabetes Shoes Different?
Dr. Comfort footwear is constructed to protect the feet and provide comfort.
• Shoe Exterior

Padded Heel: Padded heel helps reduce irritation
Padded Tongue: Padded tongue helps prevent friction and improves overall fit
Leather: Top-grain leather shapes your foot, delivering ultimate comfort
Lightweight: Lightweight construction reduces daily fatigue
Toe Box: Protective toe box reduces risk of injury
Sole: Non-skid, long-wearing, lightweight outsole increases traction

• Shoe Interior

Firm Heel: Firm heel design provides superior support
Lining: Leather lining keeps foot cool and dry
Toe Box: Extra wide toe box to reduce pressure on the foot

Does My Insurance Cover Diabetes Shoes?
Oftentimes, diabetes shoes are paid for completely, or in part, by your medical insurance plan. Our pharmacy staff is trained to explore all possible insurance benefits that you may be eligible to receive. Please check with our staff regarding your eligibility.