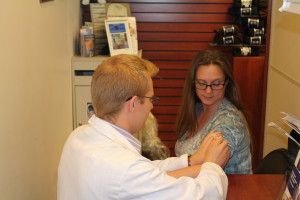 Are you due for a shot?
Unsure if you're due for an immunization? Come in for a consultation with one of our pharmacists.
All immunizations are available and able to be given at the pharmacy by one of our pharmacists.
What do i have to do?
Ask the pharmacist if you're unsure if you need a vaccination.
Check your immunization records and make sure you are up to date.
Come to the pharmacy anytime during normal business hours to receive your vaccination.
NO PRESCRIPTION NEEDED FOR ADULTS 18 YEARS AND OLDER. Prescriptions are required for patients ages 11-17 years.
The flu shot is available for all patients 9 and older without a prescription.
What does it cost?
The price of the vaccination may vary depending on your insurance co-pay.
Who should i contact for more information?
The pharmacist can provide you more information on why a certain vaccination is right for you.
The pharmacy can give you more information on your co-pay and call your doctor for a prescription.
Listed below are out-of-pocket prices for immunizations that we administer at the pharmacy. Prices are per vaccine, not per series. No prescriptions are required for adults 18 years and older. A prescription is required for children 11-17 years old. The administration fee is included in the price. Some immunizations may be billable to insurance. Prices are subject to change.
Hepatitis A $95.00
Hepatitis B 10mcg/0.5 mL dose $55.00 20mcg/mL dose $85.00
Hepatitis A & B combination $127.00
HPV $227.00
Influenza $45.00
MMR $98.00
Meningococcal $150.00
Pneumococcal PPSV23 $121.00
PCV13 $203.00
Shingles $164.00
TDaP $69.00
Td $62.00
Varicella $133.00
**Additionally, we also have travel vaccinations including Yellow Fever. Please call or email us for a price quote.