Blood Pressure Monitoring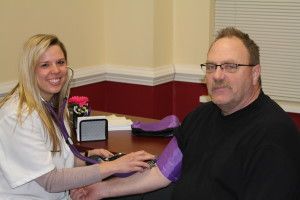 Why Should I Get My Blood Pressure Checked?
It is estimated that 1 in 3 adults have high blood pressure and that half of all patients who have high blood pressure do not have it under control.
Patients may get their blood pressure checked at the doctor's office, but that blood pressure is only a snapshot of the big picture. A person's blood pressure changes on a daily basis.
When you have high blood pressure, you are four times more likely to die from a stroke and three times more likely to die from heart disease. Studies have shown that keeping our blood pressure under control greatly reduces our risk of heart disease as well as many others.
What Do I Have to Do?
Ask the pharmacist to take your blood pressure when you pick up your prescriptions or are simply in the neighborhood. For the best control of your blood pressure, it is important to have your pressure checked monthly.
We will take one or two blood pressure readings, record the results, discuss your current medications, and follow-up with you and your physician.